If you are
missing teeth
due to an accident, disease, or lifestyle choices, a dental implant
can restore your ability to eat, speak more clearly, and laugh
and smile confidently. While many types of
dental implants
are available,
All-on-4 dental implants may be your best option
. 
So, what is "All-on-4 dental implants"? An All-on-4 dental implant uses a graftless dental technique to replace the entire upper or lower dental arch with four implants. These four implants are the support mechanism for a set of fixed false teeth. 
All-on-4 Dental Implants have a comfortable feel and natural look, and they are more secure than traditional removable dentures. 
Discover the benefits this dental implant offers for replacing missing teeth, if you're a good candidate for this treatment and how to care for your dental implant.
The History of the All-on-4 Dental Implant Technique 
Portuguese dental surgeon Paulo Malo and dental implant manufacturer Nobel Biocare were among the first to recognise the treatment benefits and cost-effectiveness of All-on-4 dental implants for replacing missing teeth.  
Backed by Nobel Biocare, Malo first used this technique to treat a patient in 1998. Today, this technique is acknowledged as a superior full-arch teeth replacement option. 
Who is a Candidate for All-on-4 Dental Implants?  
Patients ineligible for conventional dental implants due to insufficient jawbone density or those with osteoporosis are ideal candidates for All-on-4 dental implants.  
In the past, a lack of jawbone density due to bone reabsorption from missing teeth or sinus issues in the upper jaw required bone grafting or a sinus lift before undergoing dental implant surgery. 
Patients with osteoporosis have poor quality jawbones and may think they are not good candidates for this dental procedure. However, All-on-4 dental implants eliminate the need for bone grafting, allowing more people to renew their smiles and improve their quality of life.    
Conventional Dental Implants Full Arch Rehabilitation
A dental implant is a tiny biocompatible screw made from titanium, designed to replace the roots of missing teeth. A dental implant is surgically placed in the jawbone and supports a single tooth or a bridge.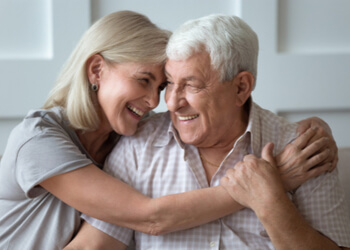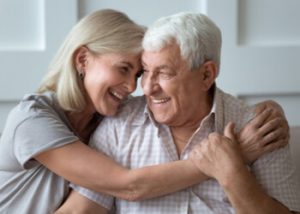 Conventional dental implants require 6-8 implants to support a full arch of teeth. However, this method has limitations if you have poor jawbone density because it is challenging to place the posterior implants effectively, potentially leading to implant failure.    
With All-on-4 dental implants, you don't need to replace each tooth individually. Instead, your dentist uses four strategically placed implants to support an entire arch of teeth. Using fewer dental implants makes the surgery less invasive and more affordable. 
Conventional dental implants also require several surgical procedures. Once the dental implant is placed, it takes three to six months for the surgical site and gums to heal. Then, you must revisit your dentist to have the abutment (connector) placed, which involves reopening the site. It takes a couple of more weeks to heal before you can have a bridge with prosthetic teeth fitted.    
All-on-4 dental implants can be fitted in one appointment, which is why they are also known as same-day implants.  This means less time in the dental chair, a shorter recovery time, and you leave the appointment with a full smile. 
What is an All-on-4 Dental Implant?
All-on-4 dental implants are a set of four implants, four multi-unit abutments, as well as a fixed bridge. The implants are placed in pairs, with two in the canine area of the jaw and two in the premolar area. 
Titanium posts
All-on-4 Dental Implants are composed of four titanium metal posts and angled connections with maximum shock absorption and special surfaces to facilitate rapid cell growth. These implants are placed into the jaw area with the highest level of bone density, the anterior maxilla. They are placed at a 45° angle and can support a full set of artificial teeth attached to a bridge. 
These titanium posts are shaped like small screws. The screw threads are coated with a biocompatible film, allowing the bone tissue to fuse with the titanium. 
All-on-4 dental implants titanium metal offers greater durability and biocompatibility than alloy alternatives. The risk of oxidation on the outer surface is minimal because titanium has a greater resistance to corrosives than alloy. 
After implantation, the posts will undergo a process known as osseointegration, where they fuse with the bone material in the jaw. The pressure stimulates osteoclast cells to create new bone tissue around the screw threads. This means that the dental implant has greater structural security, helping you to chew and eat as you would with natural teeth.

Abutments
Abutments are an essential component of All-on-4 dental implants. These angled multi-unit abutments are used to connect several tooth implants and create the effect of an unbroken bridge. A multi-unit abutment brings your bridge closer to the surface of your gums, making it easier for your dentist to restore your missing teeth.  
Additionally, multi-unit abutments create a level surface for your fixed bridge to be anchored on to. The angled abutments can be easily adjusted to create a natural-looking bite alignment.
Benefits of All on 4 Dental Implants
Before the development of All-on-4 dental implants, individuals hoping to restore their smiles after the loss of teeth had limited options. Removable dentures need adhesives in the form of pastes or strips and can still be easily dislodged by everyday actions like chewing. Once disturbed, these dentures rub uncomfortably against the gums and cheek, irritating the mouth.
When Malo conceived integrating a 45°angle into a four-post implant procedure, he revolutionised the process of full-arch teeth replacement. Since 1998 All-on-4 dental implants have been recognised for their competitive pricing, efficient installation, and easy maintenance.
All-on-4 dental implants are more affordable than an entire arch of single dental implants. Unlike traditional alternatives, which require separate implants for each missing tooth, All-on-4 dental implants use just four strategically based posts, contributing to their more affordable price tag. 
It is also essential to consider the durability of All-on-4 in comparison to other options like dentures. These dental implants can last the rest of your life without needing a replacement if they're properly maintained. 
Whereas dentists recommend replacing an entire set of dentures every 5-10 years, even if they're cared for correctly. The cost of replacing dentures can make dental implants more affordable for you in the long term.
Reduced need for bone grafting 
If you have insufficient jawbone density for conventional dental implants, an All-on-4 procedure is an ideal solution. Because the implant posts are slightly tilted when implanted in the dental arch. They provide increased anchorage to the underlying bone, reducing the need for bone grafts to develop additional tissue. 
Easy care and maintenance
Unlike dentures which require overnight soaking and special cleaning solutions, you can care for your All-on-4 dental implants just as you would your natural teeth. Brush twice daily and floss gently with an interdental brush or Waterpik. You can also use a rubber tip gum stimulator to remove food debris between the prosthesis and the gum tissue. 
All-on-4 dental implants place pressure on the underlying jawbone, stimulating tissue renewal and preventing bone resorption. This prevents your implants and prosthesis from coming loose and needing replacement, a common problem with dentures or bridges. 
What is the All-on-4 Dental Implant Procedure?
Before undergoing any procedures, your dentist evaluates your oral health to determine if implants are the best missing teeth replacement.  This includes an examination of your teeth, gum line, and jawbone and the use of imaging tools like X-rays and 3D scans. Your dentist may recommend tooth extraction or other preparatory dental procedures before your implant.
If you are a good candidate for All-on-4 dental implants, your dentist takes intraoral scans of your teeth, gums, and bite. These digital images are used to create a 3D model needed to produce your bridge. 
At Casey Dental, we fabricate dental restorations in our practice using a 3D printer and can modify your bridge with colours and stains for a perfect match. After the bridge is printed, the titanium bases are fitted, and it's ready for placement in your mouth.
What is the All-on-4 Dental Implant Average Cost?
The cost of All-on-4 dental implants varies and depends on your individual needs and any underlying dental problems. Some people have other oral health concerns that need to be addressed along with their implantation procedure. Factors that contribute to the cost of All-on-4 dental implants include:
If tooth extraction is needed:

If you still have several damaged teeth remaining in your dental arch, you'll need to have them extracted before the dental implant procedure. The cost of tooth extraction raises the price of your implant procedure.

If you need additional implants for support:

While four implants offer enough support for most people, some dentists recommend up to six implants if you have less jawbone to support your prosthesis. 

The prosthesis you choose:

You can choose from a stabilised denture, which uses fewer implants, or a full-arch implant replacement with additional implants.

If you need a sinus lift:

If your sinus cavity is too close to the upper jaw, it may interfere with your dental implant posts. A sinus lift raises the sinus membrane, and a bone graft is placed in the gap to increase the jaw's thickness.
Besides the additional costs from any preparatory surgery, the type of insurance you have affects your final pricing. Medicare doesn't cover implants or other dental care unless you fall under one of two exceptions:
The dental work is medically necessary:

Medicare covers procedures when your oral health seriously impacts your overall health. You'll need your general practitioner (GP) to submit a referral through the GP Management Plan and Team Care Arrangement service to qualify for this exception.

You have a concession card:

You're eligible for free dental care if you have a Department of Human Services card, Centrelink Pensioner Concession card, or a Health Care card.
If you have private insurance, you can get coverage for dental procedures through an extras policy. Depending on the policy, it can cover a range of general dental procedures like routine cleanings and X-rays and major treatments like tooth extractions and dentures. To lower your out-of-pocket costs, compare dental policies from multiple insurers so the procedures you need will be covered.
If you're interested in All-on-4 dental implants, consult with a dentist. They will perform a dental exam and take X-rays to identify problem areas. You can discuss your concerns, needs, and dental goals to determine your best option. If you're interested in All-on-4 dental implants, your dentist can provide an individualised cost estimate.
What is the All-on-4 Dental Implant Procedure Recovery Time?
Since this is a minimally invasive dental surgery, the recovery is relatively simple if you follow your dentist's post-op instructions. The implant procedure may leave your mouth sore, and you can expect to have some swelling and discomfort for a few days. Most people experience minimal pain from the treatment and can return to work within three to four days. 
Rest is critical following your All-on-4 dental implant surgery to ensure the jawbone and gum tissue heals during the early recovery phase. Avoid participating in any strenuous activity until your dentist clears you. 
You should stick to a liquid and soft food diet for the first few days following your surgery. Smoothies, protein shakes, blended soups, broths, mashed potatoes and scrambled eggs are excellent staples to aid in your recovery. You can resume your normal diet as you heal, as long as the foods don't cause discomfort while eating.
Full recovery from All-on-4 dental implant surgery may take up to six months, which is substantially shorter than traditional dental implants and denture procedures.
How Do I Clean All-on-4 Dental Implants? 
Dental implants are prone to bacterial growth, causing erosion or infection in the mouth like natural teeth. Cleaning your All-on-4 dental implant after every meal or twice daily keeps your oral health in check while maintaining your implants. 
It's essential to remove food debris because it can cause bacterial growth on or under the bridge. Clean your All-on-4 implant using the following method:
Clean the dentures with a toothbrush after meals. An electric toothbrush can help you clean more efficiently.

Use a toothbrush to clean the sides of your cheeks and the top of your tongue to remove stuck-on foods.

Floss your bridge after every meal or at least twice daily to remove debris from under your bridge. You can also use a Waterpik to help remove food debris.

Rinse your mouth using an alcohol-free antibacterial mouth rinse. You may want to rinse your mouth with water after meals if you're in public and mouthwash isn't available.

Go for regular professional cleanings with your dentist.
Along with everyday oral care items, you may want to use a tuft toothbrush to clean your implants. This type of toothbrush is designed to clean hard-to-reach areas in your mouth. The bristles on the tiny brush head fit into smaller crevices and can clean where your dental implant and gumline meet. 
If a tuft toothbrush is still too big, try a proxy brush. This interdental brush is designed to clean in between teeth and around the bridge and implants. The bristles are attached to a thin wire, allowing the brush to fit in the tightest of spaces.
How Long Do All-on-4 Dental Implants Last?
One of the advantages of All-on-4 dental implants to replace missing teeth is their longevity. A longitudinal study followed 245 people who received this dental implant for 10 years. The patients in the study reported a success rate of their implants at 98% after 5 years and 94.8% after 10 years. 
The overall 10-year survival rate of the prosthesis attached to the implant was 99.2%. The conclusions from this study show that All-on-4 dental implants offer a long-term solution for people in need of full-mouth dental restoration. The existing research is limited to 10 years, but the high success rate is likely to continue beyond this timeframe. 
People with this dental implant can expect few complications or failures from the implants and prostheses. Maintaining your implant with regular dental check-ups and good oral hygiene helps prolong its life. Avoid smoking and drinking alcohol, as these substances can stain your dental prosthesis or injure the site of your implant, shortening its lifespan.
All-on-4 Dental Implants from Casey Dentists
If you have multiple missing teeth and require a full dental arch replacement, All-on-4 dental implants are an excellent restoration option. Choosing a dentist experienced with the All-on-4 technique can help you avoid implant rejection and future complications. 
At Casey Dentists, our experienced dental professionals provide high-quality, compassionate care and can answer any questions you have about the procedure. 
Call us today on (07) 4801 7035 or use our online form to arrange your dental implant consultation at our Townsville practice. 
References
Paulo Malo
https://peoplepill.com/people/paulo-malo
Dental Implants
https://www.finder.com.au/dental-implants 
When is All-on-4 the best option? 5 factors to consider when creating your dental treatment plan
https://www.dentistryiq.com/dentistry/implantology/article/16365915/when-is-allon4-the-best-option-5-factors-to-consider-when-creating-your-dental-treatment-plan
All-on-4 Implants: Costs, Procedure and Providers Near You
https://www.dentaly.org/us/all-on-4-implants/