Emergency Dental Care
We Are Here For You When You Need Us Most
Dental emergencies can arise at any time. We're here for you, to diagnose and treat problems and help relieve pain.

At Casey Dentists, we understand that emergencies arise and we need to be able to treat you immediately.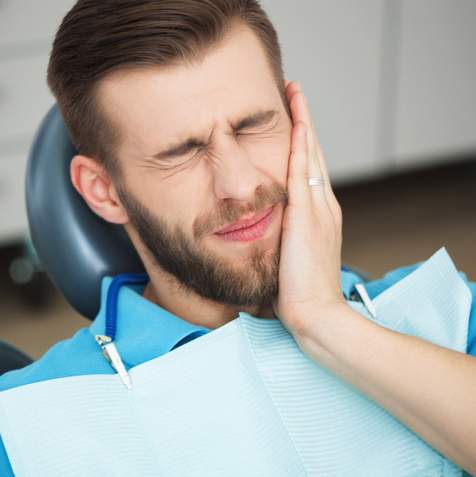 If any patient has suffered from a traumatic incident, such as an avulsed tooth (tooth knocked out), dental abscess, facial swelling, or even a fractured tooth then we will see you on the day and help you through your dental emergency. If you need an emergency dentist in Townsville, we're here to help.
Our Dental Emergency Treatment
Casey Dentists provides immediate treatment for patients who require emergency dental procedures. Our team is trained to handle complex dental cases and to ensure you receive the treatment you require. In our practice, our dentists have a wealth of experience in emergency treatment, and are able to give you urgent medical assistance when you need it.
Subsequently, definitive treatment can be provided, a referral can be obtained or ideally a full mouth examination and case presentation can be arranged where our treatment co-ordinator can discuss your options and secure your dental health for the long term.
What should I do if I have a dental emergency?
The first thing to determine is the urgency of the emergency. If you have an intense toothache, swelling, injured jaw, a knocked out permanent tooth and oral bleeding that won't stop it is important to notify an emergency dentist in Townsville right away. To reduce pain or swelling, you can make a warm mouthwash with salt and hot water and use a cold compress.
If you've lost a filling, cracked a tooth, damaged a retainer or night guard this is considered a non-urgent dental emergency. Keep knocked out teeth moist with milk or a tooth preservation product and contact your dentist.
Preventing Dental Emergencies
There are simple precautions you can observe to prevent accidents and injury to teeth. These include using a mouth guard when participating in sports or robust recreational activities, avoiding chewing hard food such as ice, popcorn kernels and hard sweets and avoiding using teeth as scissors or bottle openers.
For Dental Emergency On-call treatment and services:
Dr Matthew Casey is Casey Dental's principal dentist. He is available to consult after hours in case of dental emergencies, including:
Tooth abscess
Facial, eye, neck swelling
Avulsed tooth – "knocked out tooth"
Subluxations, lateral luxations, intrusions
Loose tooth subsequent to trauma with a risk of swallowing or inhaling
Traumatic incident to a child
With Dr Casey's passion and knowledge in the field, you can trust him to understand your dental issues and recommend a solution that best fits your needs. Our team will assist you and discuss your concerns in a professional and confidential manner.
A Dependable Practice in Townsville
Casey Dentists has years of experience in the dental industry. We are one of the most reputable practices in Townsville and can provide a high level of service and commitment to your dental requirements. All of our dental procedures are done in a warm, comfortable space; we do our best to put you at ease in our practice.
If you need immediate dental treatment, please call Dr Matthew Casey on 07 4801 7035
Request Appointment