Getting All-on-4 dental implants is a common dental implant procedure
 that involves replacing an entire arch of missing teeth in the upper or lower jawbone. Once installed, there will be no difference between your new
dental implants
and your natural teeth. 
Discover how long it takes to get All-on-4 dental implants and what you can expect from an All-on-4 dental implant procedure at Casey Dentists. 
What Are All-on-4 Dental Implants?
For a single tooth replacement, a single biocompatible titanium screw is surgically inserted into the gums for each dental implant. Your dentist places an abutment on the screw, and an artificial tooth is then attached to the screw. 
In an All-on-4 dental implant procedure, a set of four dental implants are strategically placed in the jaw to anchor a bridge fitted with artificial teeth in either the upper or the lower dental arch. 
The four titanium posts are surgically implanted into the jawbone at an angle. This eases pressure on the jawbone when biting and chewing and reduces the need for bone grafts to increase jawbone density. 
Who Can Receive All-on-4 Dental Implants?
If you are considering dental implants for missing teeth restoration, you will need to undergo a comprehensive oral examination.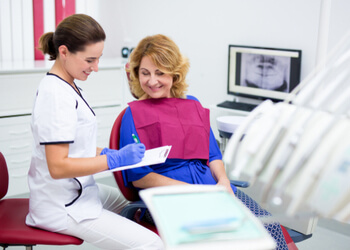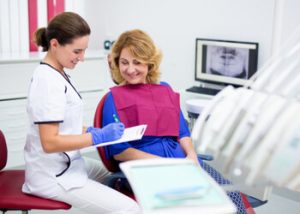 This helps your dentist determine whether you are a good candidate for dental implant surgery and the best option for your smile. 
During your dental consultation, your dentist examines your teeth and jawbone to determine whether that is in good health or if you need any preparatory treatment such as periodontal therapy or a bone graft.
There are several factors that your dentist considers when determining if you are a candidate for dental implants. 
All or some of your teeth must be missing
All-on-4 dental implants are specifically designed to replace an entire dental arch. If you have numerous missing teeth in a single arch and your remaining teeth are severely decayed or damaged, you may be a suitable candidate for All-on-4 implants. 
If you only have a single missing tooth or several missing teeth, but the others are healthy, a single implant or an implant-retained bridge may be more appropriate. 
Healthy gums
A healthy gum line is essential for All-on-4 dental implants because your dentist works closely with your gum tissue during the procedure. Patients with a history of gum disease are not excluded from getting All-on-4 dental implants, but the likelihood of implant failure is higher when they have gum disease.  
If you have gum disease, your dentist needs to address it before going through the dental implant procedure. Your dentist may prescribe antibiotics, do a root and planing treatment or perform gum flap surgery to remove bacteria and plaque beneath the gum line. This can increase your overall treatment and recovery time. 
Excellent oral hygiene
Your mouth should be free of infections and other oral issues that might jeopardise the procedure. You should also commit to maintaining excellent hygiene following the dental implant procedure, especially around the gum line. Keeping your implants and mouth healthy requires daily brushing, flossing, and regular dental visits.
No tobacco use
Your dentist will speak with you about your lifestyle habits, including smoking. If you currently smoke or chew tobacco, your dentist may recommend you kick the habit. There is a correlation between high implant failure rates and increased cigarette use. 
Tobacco can cause dry mouth and gum recession, adversely affecting your post-surgical recovery and may cause the implants to loosen over time.
Sufficient bone tissue
If you have suffered from bone resorption, you may still be a candidate for the All-on-4 dental implant procedure. However, you must have a minimum of 5mm of bone tissue to support the dental implants.
Our dentists digitally scan your mouth to assess your jawbone density and thickness to determine whether you have enough tissue to support the implants. 
The Difference in All-on-4 Dental Implants
All-on-4 dental implants offer several benefits compared to full arch implants or non-fixed restorations like dentures. Some of the advantages of an All-on-4 implant procedure include:
Get a beautiful, natural-looking smile
The dental implant procedure helps to protect the jawbone and prevent facial degeneration caused by missing teeth and losing the root system that supports them. With the help of dental implants, you can restore the volume of your face, making it look fuller and more youthful.
Possesses a high rate of success
The All-on-4 dental implant procedure was found to have a success rate of 99.8% after 24 months. A 2014 study indicated that patients who lost all their natural teeth and replaced them with All-on-4 implants experienced higher post-surgical satisfaction than other restoration options. 
Durable and stable
The All-on-4 dental implant treatment is based on a non-removable implant-supported denture. The titanium implants are biocompatible and coated with a special film, allowing them to fuse with the jawbone tissue to stabilise the bridge. 
Thanks to All-on-4 dental implants, your new teeth will feel, look and function just like natural teeth. You will feel more at ease and confident in your smile. 
More affordable than other implant options
Single dental implants are priced per tooth and require multiple appointments to complete the restoration. Opting for All-on-4 dental implants rather than a full arch of single implants to replace your teeth is a more cost-effective tooth replacement option. 
Reduces the need for bone grafts
Bone resorption can reduce the thickness and density of your jawbone. For single implants, this often means you need a bone graft or sinus lift to increase the quality and quantity of bone tissue before the implant can be placed. 
However, because the implant posts can be placed at an angle of up to 45° in an All-on-4 procedure, and fewer implants are needed to replace a full dental arch, an All-on-4 treatment reduces the need for grafting procedures. 
Shorter treatment times
Standard single or implant-supported bridge procedures require multiple surgeries to place the implant post, the abutment and fit the restoration. All-on-4 PLUS dental implants from Casey Dental can be placed and loaded in a single session. 
After immediate loading, a slight pressure increase on the bone tissue has been shown to increase the osseointegration process in patients undergoing All-on-4 procedures, significantly shortening overall treatment times. 
How Long Does it Take to Get All-On-4 Dental Implants: The Dental Implant Procedure
The timeline for how long does it take to get all-on-4 dental implants takes place over several months, or it can take place in one day, depending on the type of procedure your dentist prescribes. 
The restoration can occur within 24 hours; however, it can take between three and five days. Below is the timeline for the All-on-4 dental implant procedure. 
Consultation and examination
Your dentist performs a comprehensive exam and consultation that includes a review of your dental health and medical history. They also use 3D imaging and CT scans to see your teeth, gums, and your bite in more detail. 
These examinations allow your dentist to understand your dental condition and address underlying issues before undergoing the dental implant procedure.
Your dentist will also talk with you about your expectations for the procedure and share with you any information about the results that can be expected once the procedure has been completed. They can discuss your options for the shade and shape of your smile. 
At Casey Dentists, we believe it is important for patients to be informed as much as possible when deciding on a dental procedure that can benefit their dental health and well-being. 
Patient preparation for All-on-4 PLUS dental implants
Your dentist makes an incision along the length of the ridge of both the top and bottom jaws to expose the jawbone for ridge reduction. They remove some bone from the top and bottom arches with the remaining bone being shaped and prepared for dental implant insertion.
Your dentist makes an insertion point on the bone's surface for each dental implant. They drill holes at precise angles to ensure strength and stability for the implants while avoiding your sinus cavities. 
Once the implants have been fitted and tightened, your dentist restores the gum tissue and seals the incisions. Your dentist adds the abutments to connect your full-arch bridge to the implants' ends. 
Design of your full-arch bridge
Your dentist needs to plan the installation of the All-on-4 PLUS dental implants and create the shape and orientation of the bridge. This part of the procedure makes sure your implants and bridge fit well in your mouth and ensures stability between them.
Digital impressions of your top and lower bottom jaws are taken to create 3D models to test the fit and sizing of the full arch bridge and the dental implants in the All-on-4 procedure. After designing and modelling the bridge, the dentist uses a 3D printer in-house to fabricate the bridge case and add colours and stains to achieve a realistic look.  
Final fitting of your full-arch bridge
Your dentist fits the bridge into your mouth to see if additional modifications are needed to achieve your desired result. They may take more scans to see the precise bite technicians to fine-tune the design of your bridge as they create the final design of your bridge. 
The holes in the bridge are filled, and your dentist can check the bite pattern of the bridge to assess its fit. Your dentist may fix high spots or mismatched contact points of the bridge to assure a proper bite between your top and bottom jaws. 
How Long Does It Take To Get All-On-4 Dental Implants: Recovery Period
Most patients may feel better within three to four days and go back to their normal activities. Your mouth may still feel sensitive after the procedure, so follow your dentist's aftercare instructions for a speedy recovery.  
Immediately after surgery
During the first hour after surgery, change the gauze in your mouth every 30 minutes until the bleeding stops. Do not touch the surgical sites or rinse them with water. Use only the medicated rinse prescribed to you and let it fall from your mouth, do not spit. 
Use ice packs
In the first few days, you may experience swelling and discomfort. Your dentist may offer medication to manage the discomfort. To minimise swelling on your face, you may also want to apply an ice pack to your cheek for 15 minutes at a time. Place a barrier like a towel or cloth between your face and the ice pack to prevent skin irritation. 
Eat soft food
You may need to eat a liquid diet, including meal replacement shakes, juices, and smoothies, for the first few days to let your mouth recover from the surgery. Your dentist may instruct you to slowly introduce soft foods, such as eggs, blended soups, and ice cream, into your meals. 
You should avoid chewy, crunchy foods that could hinder the implant healing process. Drinking straws should not be used until your dentist clears you because the suction may cause bleeding around the implant sites.  
Avoid strenuous exercise
After your dental implant procedure, your dentist may advise avoiding strenuous activity and rest. There is a possibility that exercising may increase discomfort around your implant sites. Taking a break from exercising gives your gums the chance to heal around the implants and fuse with the jawbone to get the best results. 
Rest with your head elevated on a pillow or cushion to minimise post-surgical swelling and allow for proper lymph drainage. Avoid any activity that involves bending or lifting heavy items; the increased pressure in your head may cause the surgical site to bleed or prematurely split your stitches.
Use a soft toothbrush
It is essential to maintain proper oral hygiene to prevent infections and aid in the healing of your dental implants. You can continue to brush your teeth regularly but softly with a soft-bristled toothbrush. Your dentist may recommend using a medicated rinse solution to wash your mouth. 
Schedule dental visits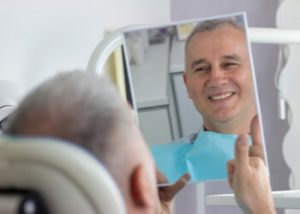 Your dentist may need to schedule follow up dental appointments to monitor your recovery process. Your dentist can answer questions and offer suggestions regarding ongoing aftercare, such as resuming your normal diet. 
Three months after your procedure, you need to visit your dentist to check the fit of the implants and bridge. Your dentist can determine whether the implants are properly integrated into your gums and jawbones. They also want to make sure the implants feel comfortable in your mouth and listen to your feedback about your smile.
Recovery from your All-on-4 dental implants can take up to six months for most people. The new permanent replacement teeth you receive can improve your quality of life and boost your self-esteem.   
Regain a Confident Smile with Casey Dentists
With an All-on-4 dental implant procedure, you can regain your self-confidence and start speaking and eating normally again. When you want to feel better about yourself and your smile, Casey Dentists can make all the difference in helping you rejuvenate your smile. 
Our dental team takes the time to understand all your dental concerns and oral health expectations. You can expect to be treated with compassion in a comfortable, state-of-art facility. 
Call us on (07) 4801 7035 to schedule your dental implant consultation and begin your healthy and beautiful smile journey.  
Note: Any surgical or invasive procedure carries risks. Before proceeding, you should seek a second opinion from an appropriately qualified health practitioner.
References
Levels of smoking and dental implants failure: A systematic review and meta-analysis
https://pubmed.ncbi.nlm.nih.gov/31955453/ 
The all-on-four treatment concept: Systematic review
https://www.ncbi.nlm.nih.gov/pmc/articles/PMC5347302/ 
Prosthodontic Perspective to All-On-4® Concept for Dental Implants
https://www.ncbi.nlm.nih.gov/pmc/articles/PMC4253293/