Age, injury, and poor oral health can cause your teeth to deteriorate over time. Without the right treatment, you may experience tooth loss, which can adversely affect your oral health by causing misalignment, tooth decay, gum disease, and bone resorption. 
More people are turning to dental implants to give their smiles a boost. If you've lost multiple teeth or your teeth are severely decayed, dental implants are an effective, long-term solution that can restore your smile. All on Four dental implants offer a fully-customised solution for those who need a full arch replacement. 
Understand what to expect from All on 4 dental implants before and after to discover how an All on 4 dental implants can improve your smile and boost your self-confidence.  
What is a Dental Implant? 
Dental implants are medical devices generally made of titanium or titanium alloys that are surgically implanted into your jaw to restore your dental health and improve your smile. Implants mimic a missing tooth's root to support an overlaying crown, bridge, or denture, restoring your smile's appearance and functionality. 
The dental implant system is made up of three parts: the titanium dental implant post, which serves as a substitute for the root of your tooth, the custom-made replacement tooth, which is fabricated to match the rest of your natural teeth, and a connector or abutment, which connects the implant and the replacement tooth. 
Dental implants are very common and generally have high long-term success rates. In fact, single tooth implants have a 95% success rate at 10 years post-placement. 
Benefits of Dental Implants
Tooth loss can lead to complications like rapid bone loss, discomfort when eating, and altered or defective speech. Using a dental implant to replace a lost tooth can significantly improve your dental health and quality of life. 
Dental implants allow for the preservation of the underlying jawbone. Without the stimulation of a natural tooth or dental implant, the jawbone can lose volume, causing tooth misalignment, increasing your risk of decay, and changing your facial structure.  In addition to preserving jawbone volume, dental implants can help preserve the overall health of your surrounding gums. 
Replacing a lost tooth with a dental implant can make eating easy and enjoyable again. While you may need to stick to softer foods or a liquid diet directly following the implant procedure, after your recovery period, you can look forward to eating all the foods you once enjoyed without discomfort. 
Dental implants can also help restore your natural speech patterns, which may have been affected by tooth loss. Dental implant surgery helps prevent the whistling and lisping you may experience due to the gap in your teeth caused by the loss of a tooth. 
Even if you haven't experienced any discomfort or altered speech, dental implants can benefit you by improving the aesthetics of your smile. 
Who is a Candidate for Dental Implants?
While dental implants are an effective solution to replace a missing tooth or teeth, this procedure is not suitable for everyone. 
To be a candidate for dental implants, you need to have relatively healthy gums since your gums provide additional support for the dental implant. People with gum infections such as gingivitis or periodontal disease need to have the condition treated with scaling and root planing, antibiotics, or gum flap surgery before undergoing a dental implant procedure.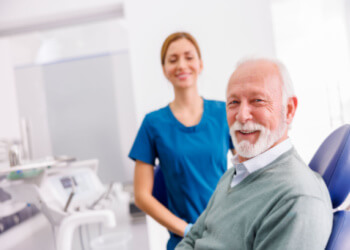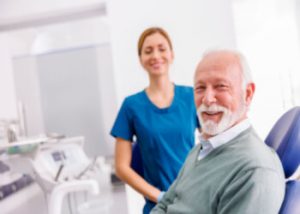 Having sufficient jawbone density is also crucial. The jawbone being key when anchoring implants, younger people whose jaws are not fully developed and those with extreme bone loss in this area may not be good candidates. 
Ideal candidates for implants protect their oral health with regular brushing and flossing. Routine visits to your dentist for cleanings and check-ups can help you address any dental issues before they become serious problems. 
If you struggle with extreme teeth grinding or clenching or have been diagnosed with bruxism, you may not be a candidate for implants. Grinding and clenching can put too much pressure on your implants and can cause the implant to fracture or the screw to come loose. 
Other risk factors may preclude your candidacy, including heavy smokers, pregnant women, individuals with uncontrolled diabetes, cancer patients, and young people who still have their baby teeth. 
What are All on 4 Dental Implants?
All on 4 dental implants are an exciting innovation in dental implant technology that allows patients to replace an entire dental arch simultaneously. The All on Four dental implants procedure is faster and more convenient than regular dental implants.
Unlike standard dental implants, which are generally used to replace a single tooth, All on 4 dental implants are designed to replace all the teeth in an arch. The All on 4 dental implant procedure supports all your teeth on a dental arch on four dental implant posts and is ideal for people with numerous severely decayed or worn teeth or teeth that have been compromised due to gum disease. 
All on Four dental implants are a permanent way to improve your dental health and the appearance of your smile. 
Benefits of All on 4 Dental Implants
All on Four dental implants offer multiple benefits for preserving and sustaining your dental health and may be a possible option for those who do not qualify for traditional implants.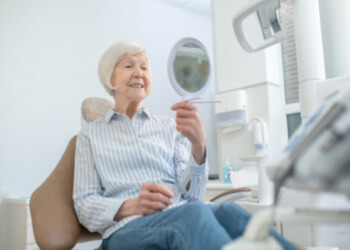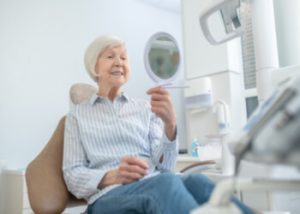 Because All on Four dental implants are permanent fixtures in your mouth, they are more reliable than dentures, which can become loose and shift. Once your All on 4 dental implants have been placed, you can eat hard foods like apples or nuts just like you would with your natural teeth. 
All on 4 dental implants are an excellent option for those with bone loss in their jawbone that prevents them from undergoing the traditional implant surgery. Because the All on 4 dental implants procedure eliminates the need for bone grafting, patients with osteoporosis in their jaws are typically able to undergo the All on 4 dental implant procedure. 
All on 4 Dental Implants Before and After: During the Procedure
If you believe All on 4 Dental Implants are the right choice for your smile, learn about All on 4 dental implants before and after to familiarise yourself with the procedure and aftercare for All on Four dental implants. 
Your first step is to schedule a consultation with a dentist familiar with the All on 4 dental implant procedure. During the consultation, your dentist performs an oral examination and asks about your medical history to determine if you are a good candidate for All on Four dental implants. 
After your dentist has confirmed your eligibility for an All on 4 dental implant, and has discussed what the procedure entails, they take measurements to plan out placement and design the shape and orientation of the All on 4 dental implant. Bite impressions of your top and bottom jaws are taken to create moulds that help verify the correct implant placement and unique fit.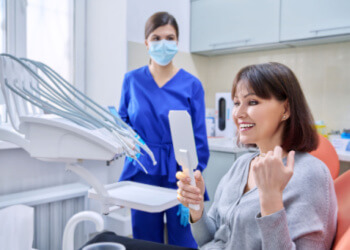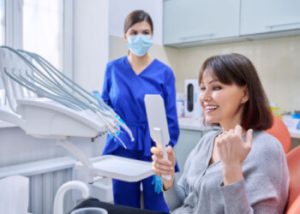 Your dentist applies a local anaesthetic during the surgical portion of the All on 4 dental implant procedure.
We also offer oral or inhalation sedation if you have dental anxiety or hypersensitive gag reflex. 
Once the anaesthetic numbs the area, your dentist extracts existing teeth or tooth remnants and damaged gum tissue, makes a small incision to expose the jawbone, and then drills pilot holes at precise angles and inserts and tightens your new implants. 
After replacing the gum tissue around the implants and closing the incision, your dentist attaches the abutments to the ends of the implants, which serve as mounting posts for your replacement teeth. Your dentist then scans the dental arch to create a digital model used to craft a full arch dental bridge 3D printed in-house to match your smile. The dentist adds a permanent prosthesis to the implants, which is secured in place with mechanical fasteners. 
Once your dentist checks your bite pattern, your new All on 4 dental implant can begin the healing process. 
All on 4 Dental Implants Before and After: After the Procedure
Aftercare is critical following any dental implant procedure, and caring for your new All on 4 dental implants should be a priority. 
After your All on Four dental implants procedure, your dentist will likely recommend a diet of soft foods for the first few weeks to prevent inflammation and reduce the risk of infection. This gives the implants time to integrate and bond with the surrounding jawbone. After the initial healing stage, you can start expanding your diet to include harder foods. 
Your doctor may recommend over-the-counter pain relievers to assist with any discomfort following the All on 4 dental implants procedure. Always stick to the recommended dosage on the packaging. 
You can also intermittently use an ice pack on the side of your face for 15 minutes on and off throughout the day. This reduces inflammation after an All on Four dental implant procedure and numbs the area to minimise discomfort. 
Ensure that you continue brushing and flossing your natural teeth and All on Four dental implant twice daily with a soft-bristled toothbrush and fluoride toothpaste. Although your artificial bridge won't decay, it can still build up plaque and tartar, causing discolouration, and unlike your natural teeth, the bridge cannot be professionally whitened. 
Schedule an Appointment for All on Four Dental Implants
If you have broken or missing teeth or are experiencing oral discomfort, contact the experienced and understanding dentists at Casey Dentists to find out if you are a candidate for All on 4 dental implants. Our experienced dental professionals can explain what to expect from All on 4 dental implants before and after the procedure. 
Call us at (07) 4801-7035 or request an appointment online. 
Note: Any surgical or invasive procedure carries risks. Before proceeding, you should seek a second opinion from an appropriately qualified health practitioner.
References:
Full Mouth Dental Implants: 4 Ways They Improve Your Smile
https://www.colgate.com/en-us/oral-health/implants/four-ways-full-mouth-dental-implants-improve-your-smile
A longitudinal study of the survival of All-on-4 implants in the mandible with up to 10 years of follow-up
https://pubmed.ncbi.nlm.nih.gov/21357865/
Concept of all on four for dental implants: A review
https://www.researchgate.net/publication/348520283_Concept_of_all_on_four_for_dental_implants_A_review